Simple climate models for teaching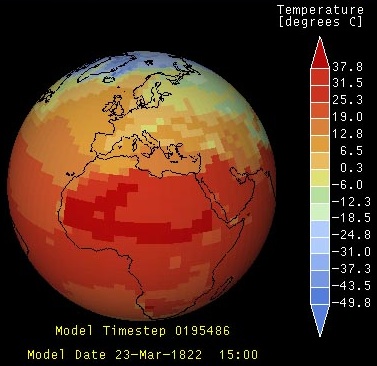 This set of webpages brings together a number of resources that may prove useful for incorporating exercises with computer-based climate models into climate science teaching.
The focus is on masters-level teaching, but for our MSc in Climate Change the students have such a wide range of natural and social science backgrounds that we offer no formal practical classes where climate models are used in great depth. Most of the material presented here does not require high levels of quantitative or computer skills, and may well prove useful for teaching purposes at a range of different levels.
Acknowledgements and limitations for using this material
Most of these climate model resources are already available on the web, and I have simply made a selection from the wide variety of models that are available, added some comments, and in some cases suggested some exercises that might be undertaken using these models. The providers of these resources are gratefully acknowledged.
I have, however, developed some new content for these webpages; principally, the simple spreadsheet-based global-climate model and some of the suggested exercises. You are welcome to make use of these, but it would be nice if you acknowledged me as the source when doing so.
If you make any improvements or extensions, then I would be happy to hear about them. My contact details are on my homepage. However, please don't ask me to make improvements or extensions, as I just don't have the time.
Glossary
Anthropogenic

Arising from human activity.

BP

Years Before Present (6000 BP is 6000 years before present, or about 4000 BC).

GCM

General Circulation Model (sometimes used for Global Climate Model).

Insolation

The amount of solar radiation received in a given time (be careful to note whether the insolation at the top of the atmosphere or at the Earth's surface is being described; the latter will be reduced through reflection and absorption by clouds and the atmosphere).

IPCC

Intergovernmental Panel on Climate Change.

MAGICC

A Model for the Assessment of Greenhouse gas Induced Climate Change (an energy balance, upwelling-diffusion climate model developed by Wigley, Raper and Meinhausen).

SRES scenarios

The scenarios of possible future greenhouse gas emissions reported in the IPCC's Special Report on Emissions Scenarios (SRES), published in 2000.
References
Archer D (2006) Global warming: understanding the forecast. Wiley-Blackwell, 288pp.
Harvey LDD (2000) Global warming: the hard science. Pearson, Harlow, UK, 336pp.
McGuffie K and Henderson-Sellers A (1997) A climate modelling primer (2nd edition). Wiley, Chichester, UK, 253pp.
Footnote
This web-based resource was developed for Module 3 [School/discipline-based practice (I)] of my Postgraduate Certificate in Higher Education Practice, during academic year 2008-9. Many thanks to the staff and students who made useful comments and suggestions during the development of this resource.