Probabilistic changes in indices of temperature and precipitation for the period 2021-50 (wrt. 1961-90) from ENSEMBLES RT2B transient RCM simulations
Introduction
Probabilistic climate projections have been produced by the combined use of dynamical statistical downscaling techniques for locations within the ENSEMBLES European region. This has been achieved via the use of a number of GCM/RCM climate model simulations and a stochastic weather generator. The climate scenario data (for the period 2021-50) have been sampled, both with and without individual RCM weighting, so as to produce ensemble-based probability density functions (PDFs), for a number of mean and extreme indices of temperature and precipitation. The PDFs quantify both the magnitude of change and the probability of that change occurring. All are conditional on the A1B emissions scenario.
The ENSEMBLES RT2B RCM simulations do not all extend to the end of the 21st Century. Thus the scenario period was fixed at 2021-50 so as to include the maximum number of GCM/RCM simulations. This is also the period of greater interest to many stakeholders. The choice of station locations for PDF construction was guided by a number of considerations – mainly the question of possible links to other aspects of ENSEMBLES analyses.
The choice of locations
The choice of station locations was largely driven by the need to complement/relate to other avenues of work within the larger ENSEMBLES project. For example, work by Huth et al. (see ENSEMBLES Final Report, Section 6 – link is now available), has tested different variants of statistical downscaling methods to produce temperature projections for several station locations across the European continent.
In a further example, Déqué has produced PDFs of mean temperature and precipitation projections, for the period 2021-50, at 35 different European capital city locations. See also Sections 6.2.3 and 6.6.2 of the Final Report). A final factor in the choice of location is the availability of reliable daily observed climate data, for the period 1961-90, for training the weather generator. The map (Fig. 1, below) shows the final selection of station locations. Station details (latitude, longitude and elevation) are given in the index of PDF links – below.
Figure 1. The locations used for scenario and PDF production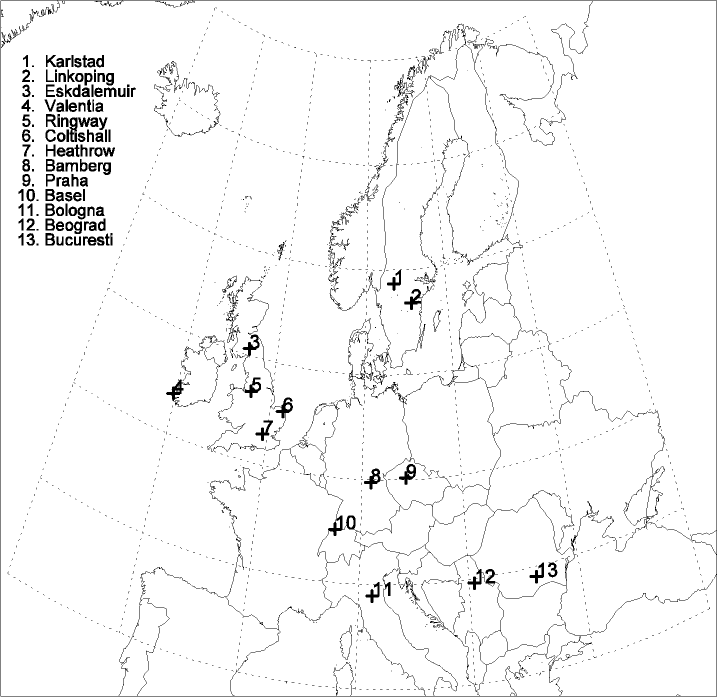 The availability of high resolution climate model output
A major modelling effort under ENSEMBLES RT2B has made an extensive array of GCM-driven RCM transient simulations available via the data portal. RCM output data have been downloaded, using the highest resolution (25km) runs available, so as to get the best possible match with the single point station locations chosen for the study. Not all RCM archives now in place were available when the downloading extraction exercise took place. This means that not every GCM/RCM-combination was used in the current study. For example, the HadCM3-Hirham output (from DNMI, Norway) was not included.
A total of 17 GCM-RCM combinations (encompassing seven GCMs and thirteen RCMs) were used in the ensemble PDF generation. For a full list of these, see Table 2 below.
The CRU weather generator
The weather generator (WG) produces internally consistent series of "synthetic" meteorological variables including rainfall and temperature. The system produces series at a daily time resolution, using two stochastic models in series: first, for rainfall RainSim (Kilsby et al., 2007), produces an output series which is then used for a second model generating the other variables dependent on rainfall. The WG is calibrated on observed daily data (ca.1961-1990) and generates output that is statistically similar to the observed. Scenario output is produced by perturbing the WG using monthly change factors calculated from RCM present and future. The output of changes in index values (scenario minus observed), from multiple runs (100 x 30-years in this case) - is sampled with and without weighting (see below) and the samples are used to generate PDFs.
The CRU WG has been developed over a number of years. For more details and examples of previous use of the CRU weather generator, in conjunction with RCM output, towards probabilistic climate projections - see the CRANIUM work and also earlier ENSEMBLES work using PRUDENCE RCM output.
The choice of mean and extreme variables
A wide range of indices has been developed and widely used in the field of climate analyses – often applied to the study of extremes. For example, the EU STARDEX Project developed software for the production of an extensive suite of climate indices. The selection of indices used here (see Table 1), falls into two sub-categories. Firstly, a number of indices relating to temperature and precipitation changes have been selected, which should be of particular interest to the user community. Secondly, this selection has been added to, to be consistent with other analyses under ENSEMBLES RT5 which test the abilities of different RCMs to simulate different aspects of observed climate (see WP5 Deliverables D5.23 and D5.31).
Table 1. Acronyms and their description for the 15 seasonal indices of mean and extreme temperature and rainfall in the figures linked below.
Index
Description
User-friendly name
tav
Mean Tmean
Average temperature
txav
Mean Tmax
Average maximum temperature
tnav
Mean Tmin
Average minimum temperature
txhw90
Heat Wave Duration (days)
Longest heatwave
txf90
% days Tmax > 90th percentile
Number of hot days
tnf10
% days Tmin < 10th percentile
Number of cold nights
tnf90
% days Tmin > 90th percentile
Number of warm nights
pav
Mean climatological precipitation
Average seasonal rainfall
pxcdd
Max number of consecutive dry days
Longest dry period
pfl90
Fraction of total rainfall from events > long-term 90th percentile
Heavy rainfall proportion
px5d
Maximum 5-consecutive-day total rainfall
Total rainfall from a wet period
Additional extreme indices (also relate to RT5 extremes work)
txq95
95th percentile of daily Tmax
Temperature on hot days
tnq05
05th percentile of daily Tmin
Temperature on cold nights
pq50
50th percentile of daily precipitation
Median daily rainfall
pq95
95th percentile of daily precipitation
Total rainfall on a wet day
In all of the PDFs plotted (see index of links below), the (1961-90) baseline index values are shown thus allowing the projected changes, in percentage or absolute terms, to be related to the baseline.
The derivation and application of weights and the influence on PDFs
It is common practice to use ensembles of climate model output to reduce uncertainty in climate projections. Uncertainty can be addressed further by the use of weights which reflect the abilities of individual ensemble members to replicate different aspects of observed climate. Weights have been calculated using the ERA-40 driven RCM output, with averaging across all European regions, and comparisons with observed climate – see Deliverable D3.2.2. Within this work, model weights have been calculated by different means - which have all been examined. The PDFs presented here are based on the weighting system ('Wprod') which shows the greatest diversity between GCMs.
Probability Density Functions (PDFs) – A1B – 2021-2050 scenario changes
In this set of figures, changes for the A1B emissions scenario calculated from weather generator output are plotted as Probability Density Functions (PDFs). The magnitude of the change is shown on the horizontal axis and the density (frequency) of the change occurring in any one season on the vertical axis. Each figure has two PDFs – weighted and unweighted. The links to the PDFs are split into two subsets – as indicated in Table 1.
In each seasonal panel, both of the lines represent scenario (weighted and un-weighted 17-member ensemble) changes for the 2030s. Each individual PDF is constructed using 1700 paired changes (i.e., 17 [30-year-means] x 100 weather generator runs). The changes are calculated as the difference between each of the 1700 values for 2021-2050 and the equivalent control-period value.
In order to estimate probabilities of change from these plots, it is necessary to integrate the area under the part of the curve of interest. However, these PDFs do provide a clear visual picture of the most likely change (indicated by the peak or mode of the distribution) and the uncertainty (indicated by the shape and spread of the distribution).
Average temperature
Temperature extremes
Ave. precip.
Precip. extremes

Temperature
extremes
Precip.
extremes
txav
tnav
tav
tav
+RCM
means
txhw90
txf90
tnf10
tnf90
pav
pav
+RCM
means
pxcdd
pfl90
px5d
txq95
tnq05
pq50
pq95
Karlstad (Sweden)
59.35N, 13.47E, 50m
Karlstad
Linköping (Sweden)
58.40N, 15.53E, 100m
Linköping
Eskdalemuir (UK)
55.32N, 3.20W, 242m
Eskdalemuir
Valentia (Ireland)
51.94N, 10.22W, 9m
Valentia
Ringway (UK)
53.35N, 2.27W, 75m
Ringway
Coltishall (UK)
52.77N, 1.35E, 20
Coltishall
Heathrow (UK)
51.48N, 0.45W, 25m
Heathrow
Bamberg (Germany)
49.88N, 10.88E, 282m
Bamberg
Praha (Czech Rep.)
50.09N, 14.42E, 191m
Praha
Basel (Switzerland)
47.55N, 7.58E, 318m
Basel
Bologna (Italy)
44.48N, 11.25E, 60m
Bologna
Beograd (Serbia)
44.80N, 20.47E, 99m
Beograd
Bucuresti (Romania)
44.52N, 26.08E, 90m
Bucuresti
Interpretation of the PDFs
As an illustrative example, we consider results for average daily temperature (tav) at Heathrow - see index above:
The spread (horizontal range) of the PDFs (both weighted and un-weighted) for all seasons, appear to follow the spread of individual RCM scenarios which are reflected by the complementary graphics showing the individual RCM tav scenario changes (see index). The range amounts to about 2° C for all three-month seasons. The range is less for the annual PDF. In addition, long tails in the PDFs can be seen to emanate from the presence of greater individual RCM scenario mean changes. The use of weighting (black curve PDFs) makes the effects of individual RCM scenarios less clear, however, the effects of weighting are quite significant in this case, especially in the winter, autumn and annual seasonal panels. Individual RCM weights are, as yet, available only to Project partners and thus not in the public domain.
For tav at Heathrow, the indications are that temperatures, in all seasons, will rise by about 1° C by the 2030s. The greatest divergence between weighted and un-weighted PDFs is evident for the winter season. Without weighting, the increase in temperature would be about 1.5° C.
Table 2. The listing of GCM/RCM combination archives used in the analyses
Institute
Scenario
Driving
GCM
RCM
Grid
res.
ENSEMBLES
Acronym
Acronym
indicating
GCM/RCM
pairs
CNRM
A1B
ARPEGE
Aladin
25km
CNRM-RM4.5
ARP-ALADIN
KNMI
A1B
ECHAM5-r3
RACMO
25km
KNMI-RACMO2
ECH-RACMO
OURANOS
A1B
CGCM3
CRCM
25km
OURANOSMRCC4.2.1
CGC-CRCM
SMHI
A1B
BCM
RCA
25km
SMHIRCA
BCM-RCA
A1B
ECHAM5-r3
RCA
25km
SMHIRCA
ECH-RCA
A1B
HadCM3Q3
RCA
25km
SMHIRCA
HAD-RCA
MPI
A1B
ECHAM5-r3
REMO
25km
MPI-M-REMO
ECH-REMO
METNO
A1B
BCM
HIRHAM
25km
METNOHIRHAM
BCM-HIRHAM
C4I
A1B
HadCM3Q16
RCA3
25km
C4IRCA3
HAD-RCA3
UCLM
A1B
HadCM3Q0
PROMES
25km
UCLM-PROMES
HAD-PROMES
ETHZ
A1B
HadCM3Q0
CLM
25km
ETHZ-CLM
HAD-CLM
HC
A1B
HadCM3Q0
HadRM3Q0
25km
METO-HC_HadRM3Q0
HAD-HAD
A1B
HadCM3Q3
HadRM3Q3
(low sensitivity)
25km
METO-HC_HadRM3Q3
HAD-HADLO
A1B
HadCM3Q16
HadRM3Q16
(high sensitivity)
25km
METO-HC_HadRM3Q16
HAD-HADHI
DMI
A1B
ARPEGE
HIRHAM
25km
DMI-HIRHAM5
ARP-HIRHAM5
A1B
ECHAM5-r3
DMI-HIRHAM5
25km
DMI-HIRHAM5
ECH-HIRHAM5
ICTP
A1B
ECHAM5-r3
RegCM
25km
ICTP-REGCM3
ECH-REGCM
References
Kilsby, C.G., Jones, P.D., Burton, A., Ford, A.C., Fowler, H.J., Harpham, C., James, P., Smith, A. and Wilby, R.L. 2007: A daily weather generator for use in climate change studies. Environmental Modelling & Software, 22, 12, 1705-1719.