Climatic Research Unit: Data
NCEP/NCAR Reanalysis: Old Window
Scroll down to access what's left of the old window
UPDATE TO PROBLEM REPORT (SEE BELOW)
All the NCEP data have now been corrected and are available from the CDC. I am taking this opportunity to impose the new, extended window (90W-90E; 90N-0N: see below) and this will become available over the next few months, gradually replacing the smaller datasets.
Please address any requests for priority (or new variables) to me.
Ian Harris, 16 May 2002
URGENT: POTENTIALLY MAJOR PROBLEMS WITH NCEP REANALYSIS DATA
I have taken ALL data from 1997 onwards OFFLINE pending clarification from the CDC of issues loosely identified at the top of their problem report page and more fully explained at NCEP. Despite the wording of these notifications the problem may be widespread. It definitely affects U-Wind at 10m, for example.
I can only pass on apologies from the CDC - more information when it becomes available.
Ian Harris, 27 February 2002
IMPORTANT
It is proposed to considerably increase the window size of the extracted data.

The window may increase to (90W-70E;80N-20N) or even to a quarter-sphere (90W-90E;90N-0N).

Obviously the increased coverage would also mean longer download times and some extra processing for those wishing to use the original window.

Please mail me here: i.harris@uea.ac.uk with any comments or requests.
The reanalysis data are available for numerous meteorological parameters, as 6-hourly observations, and daily and monthly averages. They generally extend back from the present day to 1948, and cover the entire globe. For a full description of the project which sourced this data, you should visit the NCEP/NCAR CDAS, Reanalysis Project Home Page.
The source data were provided by the NOAA-CIRES Climate Diagnostics Center, who provide a full description of the data.
The work done at CRU has extracted spatial subsets of the data, and reformatted from netCDF to plain ASCII. All enquiries about the validity of the data, or its development, should be addressed to the CDC or NCAR.
Generic Information about the NCEP/NCAR Reanalysis data files on this site
Only daily and 6-hourly data sets are referenced here, for a single European window. Monthly data sets, and some alternative windows have been extracted, email for details (see contact information at foot of page).
All files are gzipped. Unzip with 'gunzip' (unix), 'winzip' (PC Windows), or 'macgzip' (Macintosh).
Daily and 6-Hourly files are in ASCII text format, space-separated, with a field width of 12 characters.
Each file contains vertically-concatenated grids of values, each grid being a set of values for a particular time step.
Each line represents a latitude step; each column a longitude step. The first line represents the northernmost latitude.
The extraction window is 80°N - 30°N; 60°W - 70°E. Since Surface Flux data are on Gaussian grids, the exact window sizes are sometimes non-integer. Always see the appropriate READ_ME file for exact details.
The filename includes the dimensions of a single grid.
An example filename, for air temperature, would be air.2m.gauss.1958.d.w1.71x28.dat: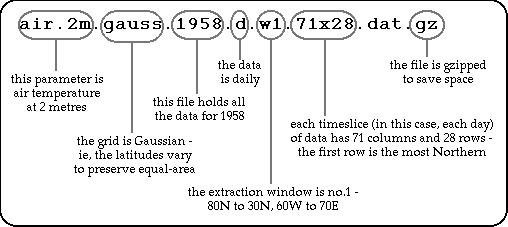 ACCESS TO DATA SETS
Note: Precipitable Water, although classed as a Surface parameter, applies to the entire atmospheric column (hence, 'eatm' in the filenames).
---
Last updated: March 2001, Ian Harris
Please refer all enquiries, errors, omissions and ambiguities to me: i.harris@uea.ac.uk